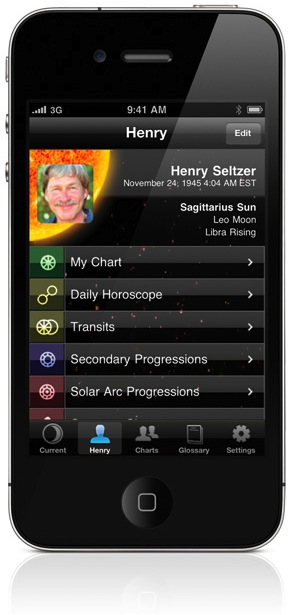 As a professional astrologer I'm always asked  for recommendations of astrology software programs. Until now there has been a huge gap between the so-called "horoscope" apps that provide fun but useless "horoscopes" based on sun sign only, especially for the Iphone. (I use the word "horoscope" in quotes here because a horoscope is actually the actual natal chart rather than the predictions it has come to signify.)
I use the Solar Fire professional software program in my day-to-day astrology practice, so when their Iphone version came out I purchased it right away.  At $29.99 the app is not cheap, but it is certainly handy to be able to whip out the phone and immediately calculate the position of your progressed Moon.
The folks at Astrograph sent me an offer to review their Iphone app so of course I took them up on it.  They also have a free app which I highly recommend.
The Time Passages free app provides everything you need to cast your own birthchart, and even gives you a real "horoscope" showing the effect of the current planetary positions on your own birthchart. This is a great way to learn about astrology and the effect of the planets on our personal lives. If you want the option to show a transit wheel or progressed chart, you can purchase this and other options for a very modest fee ($.99).
The paid Time Passages app naturally has more features.  You can view biwheels with the natal and progressed charts, or natal and transit charts.  (I suppose it would be difficult to view a triwheel on an Iphone, but that would be a great feature at some point in the future.)  The app does include a "compatibility meter" which I am not crazy about, anything that we do to "dumb down" astrology in this way rankles me, especially in a professional application like this.  But I'm sure it will be very popular.
I'm frankly not sure if the differences between the paid app and the free app are worth the $29.99.  Unless I'm missing something you can purchase the additional features you would use on a daily basis (transits, progressions) for only $.99 each.
AstroGold is the Iphone app from the folks that brought us the Solar Fire family of software programs.  Because it's geared towards professionals it does offer a wider range of options such as the type of Black Moon and over 25 house systems.  I confess that although I have been an astrologer for about 30 years I use only a fraction of the features of my Solar Fire package, and most of these extra options will certainly be lost on the average user.
Most of my readers will be quite pleased with the free Time Passages app and pay for the upgrades for the transits and progressions, and Henry Selzer's excellent interpretations are a great learning tool as well.
[related_posts limit="5″ image="50″]