The Sun will conjunct the Moon and the shadow will obscure them both in a partial solar eclipse at 10:43 pm est on March 18. It will be too dark to see in the Americas, but in Russia, India, China and the northern portions of Alaska the Sun will be partially obscured by the shadow of the earth.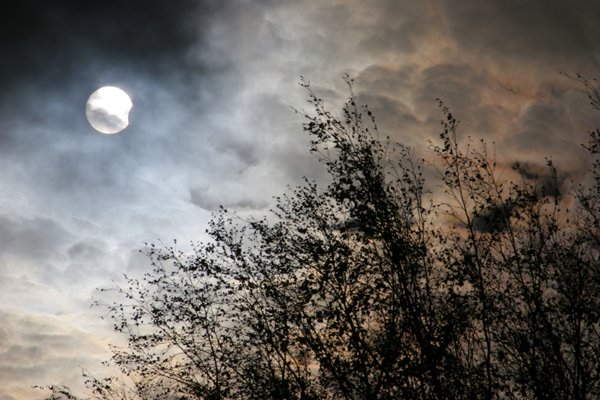 New Moons are times of new beginnings, but as I've mentioned this is the last of a series (eight!) of New Moons in the last degrees of a sign, this time at the end of Pisces. I personally feel that this is symbolic of the closing of a chapter in the human experience. This past year has been tremendously powerful from an astrological perspective: we had six planets in retrograde motion at one time last summer, an opposition from Saturn to Chiron, a grand square that reverberated through the first half of the year and an opposition from Saturn to Neptune closing out the second half of the year along with this series of late degree New Moons. And then we had the reclassification of Pluto and the promotion of Ceres and the new Eris, indicating that something new is ready to enter the human consciousness.
Pluto will be exactly square to the lunation, suggesting a strong undercurrent of powerful impulses that may remain at the unconscious level, particularly since Pluto will be eclipsed by earth's shadow when it passed in front of a star in the Sagittarius constellation. The New Moon in Pisces has a yearning for peace, for a transcendent experience of perfect love and compassion. The square from Pluto sends a rumbling message through the collective psyche that makes peace impossible until our deepest and darkest emotions are recognized and released. Pluto's realm delves into our rage and jealousy, our fears and compulsions, and requires that we let go of anything that no longer serves us in order to become transformed and evolve.
The dual eclipse events of both the Moon and of Pluto describe a somewhat hidden component to the lunation. Because New Moons are new beginnings, this event is a perfect time to make friends with the shadow that we all carry within us and incorporate its power into our own. An exact trine of Jupiter to Saturn provides the vision and discipline to facilitate the achievement of our goals as well!