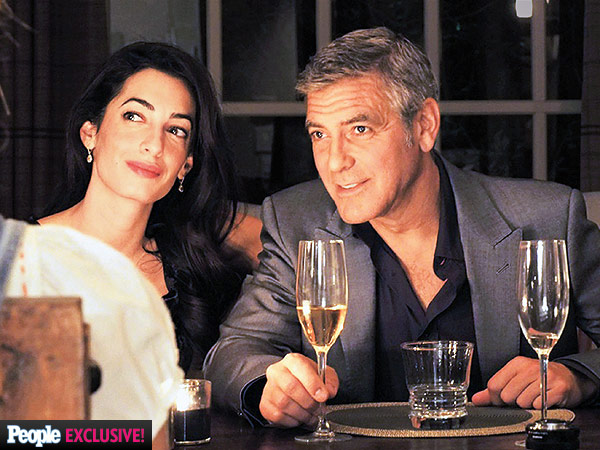 Photo from People.com
The world's most eligible bachelor is off the market – George Clooney has renounced his claim that he will never marry again and has become engaged to Amal Alamuddin, British human rights attorney.
George Clooney's astrological chart here. George's Sun is in Taurus, the sign of earthly delights, stability, security. Taureans crave a peaceful and serene environment and typically do not like change, but because his Sun is conjunct Mercury (the messenger god and ruler of communication and information), there is a part of him that will also crave a variety of experiences. His Moon, representing our need for emotional security, is in Capricorn and it is conjunct Saturn, the planet that rules Capricorn. This is what we astrologers call a "double whammy," indicating that the Saturn/Capricorn principle of hard work and solitude is fused with his emotional needs. Saturn/Moon people need lots of alone time–often in their childhood they can be extremely lonely and unable to connect, and in later years this becomes a need for solitude in order to refresh one's sense of safety.
Mars (personal drive and will) is in Leo in George's chart, and this is where we find his prankster nature and love of practical jokes for which he is well known. Venus (relating to others) is in Aries, showing that George likes to take the lead in relationships. He in fact has been quoted as saying that he likes to be the one that pursues women, and not the other way around. With Mars and Venus both in fire signs (Leo and Aries), he has a natural exuberance. But I suspect very few people are able to get close to […]